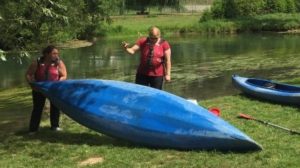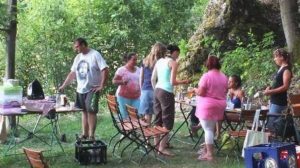 This year's summer excursion took us to the Franconian Switzerland for kayaking on the Wiesent. Many can already tell about their own kayak tour, but for the pharmadocs team it was completely new territory. Since most of the work colleagues had never sat in a kayak before, some had mixed feelings. How does it behave with paddling, how do you steer, what do you do in critical and difficult situations.
After a detailed briefing we marched with the two-man kayaks towards the river bank. The entry into the water has worked perfectly due to the mutual assistance. Now position the paddles correctly and let's go. Full of anticipation we set off from the Behringersmühle to Streitberg. We discovered Franconian Switzerland in a unique way from the water and enjoyed the beautiful nature when the weather was fine.
Some rapids required our full concentration, good communication and teamwork. Three transfer points forced us to lift the kayaks out of the water, carry them over land and put them back into the water a few meters further on. From time to time individual sandbanks hid in the river, which could not be recognized immediately. It did happen that some kayaks landed and threatened to capsize. But with combined forces we were able to free ourselves from this gagging situation.
After four eventful hours and 15 km of river we have reached our destination Streitberg. Afterwards we had a barbecue to review the day. We laughed about misfortunes and were happy about the successful excursion and the new experiences that further strengthened our team spirit. For some people this will certainly not have been their last kayak tour.